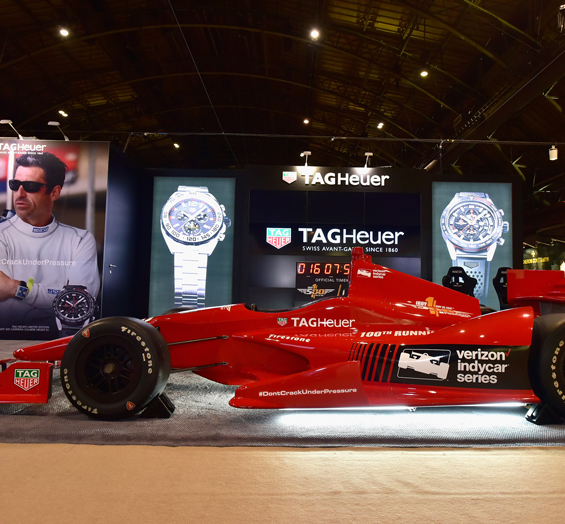 16 Apr

TAG Heuer celebrates 100 Years of Innovation and 100 Years of the Indianapolis 500 Race in New York

TAG Heuer celebrates 100 Years of Innovation and 100 Years of the Indianapolis 500 Race in New York
TAG Heuer is proud to join the Timecrafters fourth annual watch show at the Park Avenue Armory in Manhattan May 12-15, 2016. TimeCrafters is America's premier luxury watch exhibition and each year draws watch collectors, experts and enthusiasts to view the finest timepieces from the most iconic watch and jewelry brands.
TAG Heuer will present historical timepieces celebrating 100 years of advancements in watchmaking, displaying the brand's past together with its future to highlight TAG Heuer's heritage of innovation. The brand will showcase the 1916 Mikrograph and the 2016 re-edition, the 1963 Carrera and its evolution to the Heuer 01 and Heuer 02, and most strikingly, the first 1916 wristwatch alongside the Connected Watch.
Since 1860, TAG Heuer has exceled as luxury sport brand by perfecting the chronograph movement and crafting watches that guarantee unwavering precision despite extreme conditions. TAG Heuer's commitment to excellence under pressure finds kinship in auto racing, a sport which requires its champions to maintain speed, accuracy and focus in a fast paced and competitive environment. TAG Heuer has always stood at the forefront of the industry and will commemorate the 100th running of the iconic Indianapolis 500 motor race at TimeCrafters.
The booth will exhibit an Indy 500 showcar and TAG Heuer will unveil the Formula One limited edition (1,000 pieces), the Carrera Heuer 01 limited edition (100 pieces) and two specialized Indy 500 dial for the Connected Watch. TAG Heuer brand ambassador Patrick Dempsey, actor and professional race car driver, will inaugurate the booth on opening night. His presence at the event marks a special occasion, as one year ago he waved the green flag inviting 2015 Indy Car drivers to start their engines for the 99th race.
SOURCE: TAG HEUER