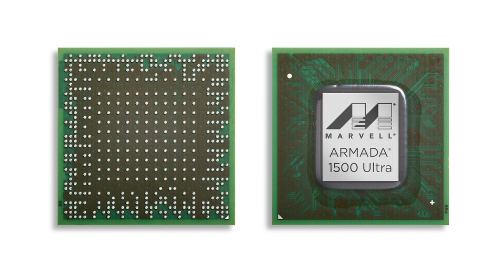 01 Mag

New ARMADA 1500 Ultra Platform for 4K Entertainment

THE IDEAL SOC PLATFORM SOLUTION FOR ANDROID SET TOP BOXE

New ARMADA 1500 Ultra Platform for 4K Entertainment. The new comprehensive multi-media SoC solution that Marvell presents, enables global set-top box manufacturers and PayTV operators to accelerate mass deployment of cost-effective Ultra HD devices.

Marvell, the worldwide leader in providing complete silicon solutions from mobile communications to storage, Internet of Things (IoT), cloud infrastructure, digital entertainment, in-home content delivery and Kinoma® software enabling the "Smart Life and Smart Lifestyle", it's now introducing the ARMADA® 1500 Ultra (88DE3218) system-on-chip (SoC) to its award-winning ARMADA 1500 family.

The ARMADA 1500 Ultra's Quad Core 14K DMIPS ARM A53 CPU, 8-core GPU, offers a complete platform solution for operators, providing support for video SoCs, Wi-Fi and Internet of Things services. Carrier-grade security and state-of-the-art power management techniques, are designed to enable PayTV operators and set-top box (STB) manufacturers to cost-effectively deliver small form factor devices with feature-rich 4K entertainment and gaming services to their subscribers.

The main key features include:
Highest Resolution Video that operators will be uses the centerpiece of services that consumers will demand with mass installment of 4K TVs over the next few years.
Enables operator to deploy rich media/web based TV applications and Android TV services for enhanced viewing experience with lower power profiles.
Powerful GPU needed for Android gaming apps that Service Providers will be rolling.
Robust Security Engine to support evolving strict guidelines for Premium Content Broadcast include Trustzone integration and support for 4K Video Watermarking.
With its 64-bit ARM CPU. The SoC also features a sophisticated security processor supporting leading conditional access systems (CAS) solutions from Verimatrix to meet the strict standards of service operators and content partners, building on Marvell's legacy of supporting the first Android STB with CAS. Making, Marvell the first silicon provider to bring the 64-bit ARM architecture both to the mobile and the PayTV segments, thereby enabling the unification of the application developer ecosystem.