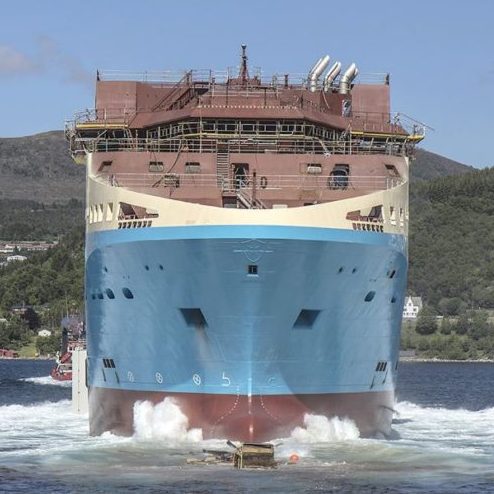 25 Ago

Maersk has the world's biggest shipbuilders, on your tv

With legs towering more than 200 metres over the shipyard, the world's biggest jack-up drilling rig is one of the pieces of Maersk hardware featured in a new Discovery Channel series.
The new jack-up drilling rig looms over the DSME shipyard in Okpo, South Korea. When completed later this year, the latest addition to Maersk Drilling's fleet will be the biggest jack-up in the world, ready to start work on a five-year contract with BP in the North Sea.
It is one of the advanced Maersk assets featured in a new Discovery Channel Series being broadcast around the world, which follows the construction of the rig as well as vessels for Maersk Supply Service and Maersk Tankers.
World's Biggest Shipbuilders has been in production for about 18 months from start to finish, with a core team of 17 shooting hours of material during four trips to South Korea, three each to Denmark and Norway, and also in Poland, Singapore and Finland.
Meet the crew
It gives viewers the chance to meet the boundary-pushing crew of engineers, shipbuilders, captains and designers as they work to build, test and launch three of the world's most complex offshore assets. Working under extreme conditions, and tight deadlines, the teams toil to complete the assets and get them ready to access and transport oil.
As well as the drilling rig, assets featured in the series include six deep-water supply vessels for Maersk Supply Service being built at Kleven Verft shipyard in Norway, and eco-efficient vessels for Maersk Tankers from the Sungdong shipyard in South Korea. To enhance value for customers and stay competitive, Maersk is investing in new technologically advanced assets. Its strong financial position makes such focused investments possible in times of market downturns.
"We are excited to invite Discovery's viewers on board to follow our skilled and competent employees as the next generation of innovative, advanced vessels and offshore rigs are constructed to help us meet our customers' requirements," says Morten Engelstoft, CEO of APM Shipping Services, the business unit which includes Maersk Supply Service and Maersk Tankers.
"The new assets ensure that Maersk continues to operate with a fleet that contains some of the newest technological features in the offshore industry – meaning higher efficiency and in return, cost advantages for customers in the oil and gas industry," Engelstoft says.
Enhancing value
The series – which follows a previous one about construction of Triple-E vessels, which reached more than 34 million people – will be a 6×60' documentary-style. Maersk Drilling's Maersk Viking drillship is due to feature in another Discovery series, Mighty Ships.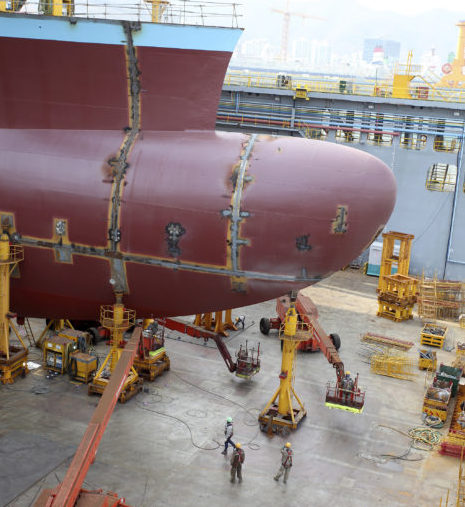 Sophisticated drone cameras will reveal the vast scale of the projects as each episode shows the daily challenges faced by the teams on the ground. Using 3D CGI animations, the series will delve deep into the inner workings of each vessel, rig and machine to expose the necessary innovations and mechanical feats pivotal to each build.
"World's Biggest Shipbuilders shows the extreme conditions and challenges Maersk faces as its highly skilled, innovative team build some of the most advanced industrial superstructures in the world," says Tom Gorham, Executive Producer for Discovery Networks International.
Morten Engelstoft explains that the renewal of the fleet has been designed to ensure economy of scale and operational and environmental efficiency, creating cost advantages for customers and new business opportunities for Maersk.
"Increasingly, our customers in the oil and gas industry ask for cost-effective solutions that can help them to improve their business. Our proven track-record of delivering safe and reliable operations is critical, and these new assets support that," Engelstoft says.
Source: Maersk News