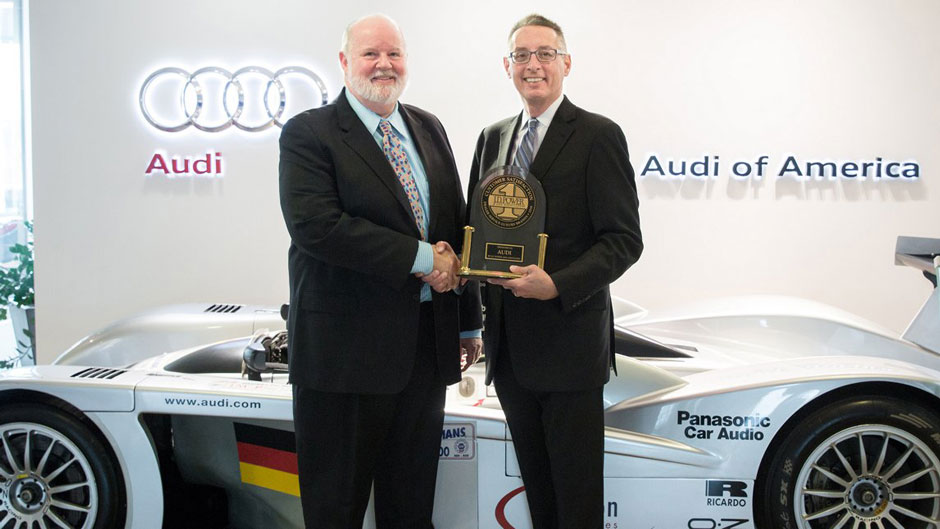 10 Apr

Audi achieves No. 1 spot in J.D. Power 2016 Customer Service Index
For the first time ever, Audi of America placed first among all other automotive brands in the 2016 J.D. Power Customer Service Index (CSI). The CSI study is a leading indicator of how customers view their vehicle service experience within the first three years of ownership.
After multiple years of steady and consistent improvements, Audi jumped to 1st place from 3rd last year, with a gain of 9 points for a total score of 874, which stands above the luxury average.
"This is a milestone for the Audi brand in the U.S. and one that we've been actively striving for," said Peter Donnellan, Vice President of After Sales, Audi of America. "Achieving the top spot is a testament to the dedication of our dealers and their efforts to always improve and excel in customer service.  Audi will continue to focus on the owner experience and ensure that every touchpoint is executed in a way that's relevant and meaningful to today's consumer."
According to the J.D. Power results, Audi made improvements across multiple areas of the study, including Service Initiation, Service Advisor, Service Quality and Vehicle Pick-Up. Year over year, customer perception of amenities was more favorable, and significant improvement was made in Quality and Initiation. The overall increase in results for Audi was primarily driven by Maintenance (up 15 points, followed by Repair (up 5 points); Audi scored first in both categories. Audi was also ranked 3rd highest in Gen Y Satisfaction among Premium Brands and Audi Service Advisors were rated the best in the industry.
The 2016 CSI Study is designed to provide manufacturers with an objective assessment of customers' satisfaction with dealer service during the first three years of vehicle ownership, which typically is representative of the warranty period. This study also examines additional service concepts – such as the variation in satisfaction among maintenance and repair customers, dealer and non-dealer service facility usage and loyalty, and Key Performance Indicators (KPIs) – that designate the highest performers in the industry.
Source Audi News