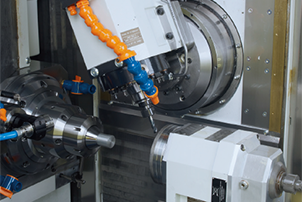 05 Dic

Willemin-Macodel's 508 Mt Linear Multi-Process 6 – 8 Axes Machining Center

All the feed controls are ensured by synchroneous motors with mechanical transmission elements, insuring both speed and precision.

The rotary axis of the back-working turret is also equipped with a direct drive motor.
SPECIFICATIONS:
Rigidity of the regulation loop.
Precision and stability of the speed.
Fast travel speed.
Cycle time reduction.
Thermal stabilization of the 3 axes casting, the rotary axes and spindles.
No mechanical wear as the transmission has no physical contact.
Resolution of 1/10 micron and 1/10'000°.