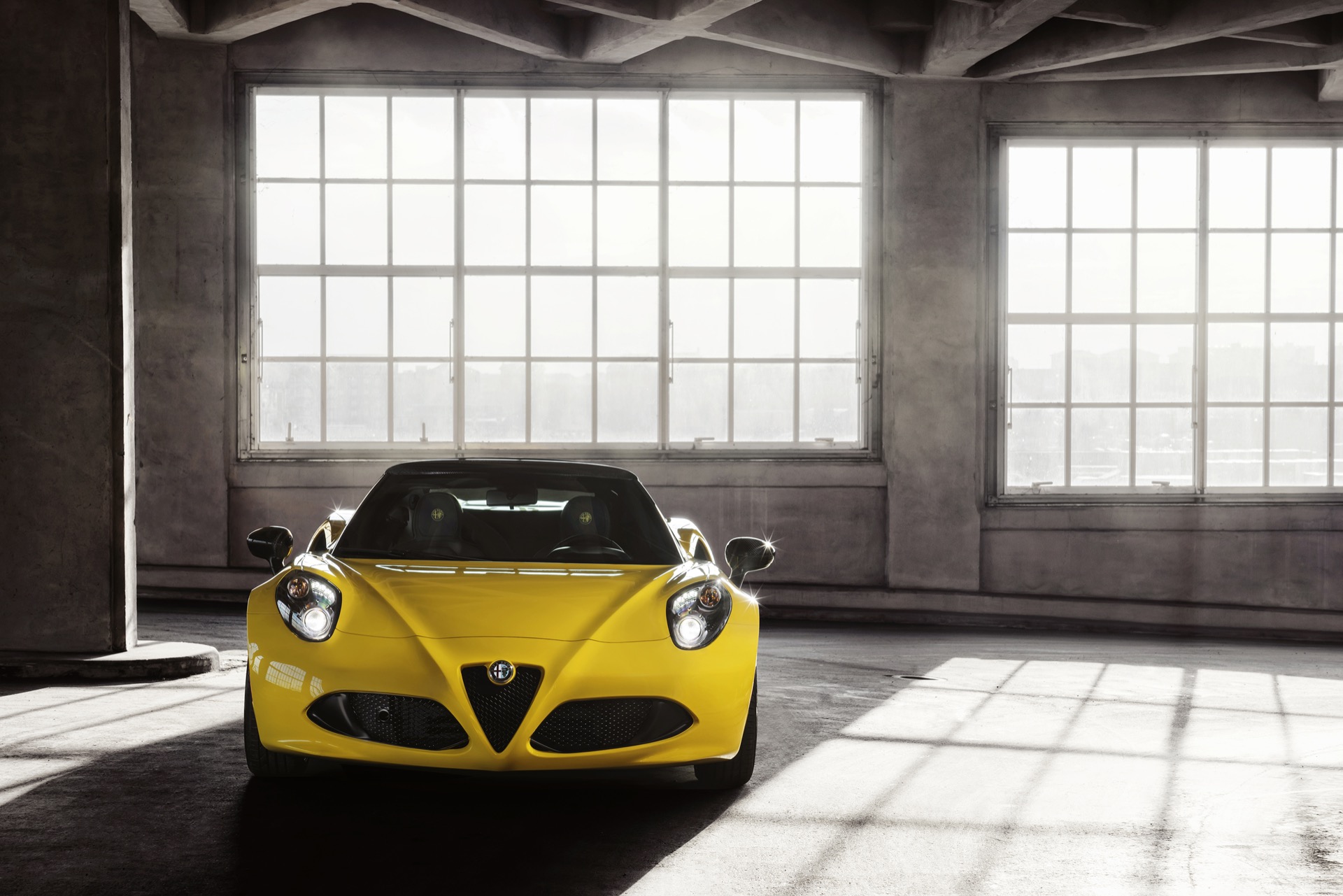 06 Lug

2015 Alfa Romeo 4C Spider

The 2015 Alfa Romeo 4C Spider, which makes its debut this week at the Detroit Auto Show, breaks convention with pretty much every other convertible and open-top car on the market, short of far more expensive exotic cars.

And that's a very good thing. The 4C Spider is a completely different, thoroughly modern kind of open-top two-seater—one with 0-60 mph times of just 4.1 seconds and outrageously satisfying performance in general, as well as a super-light carbon-fiber monocoque chassis and special sheet-molded composite panels.

What do you get for all that dough? Aside from a beautiful ride that's sure to be envied by every sports car fan within a 100-mile radius, you'll have:
A mid-mounted, all-aluminum, direct-injection, turbocharged engine that churns out 237 horsepower and 258 lb-ft of torque;
Alfa's twin-clutch transmission, complete with paddle shifters (it doesn't appear that a true manual will be offered, at least not to start);
Four distinct driving modes: "Natural" (for smooth, comfortable rides), "All weather" (for maximum control and traction), "Dynamic" (for speed demons), and "Race" (for track days and other situations where it's legal to deactivate the car's electronic stability control);
A 0-60 time of 4.1 seconds and a top speed of 160 mph;
Hefty brakes that offer 1.25 g of deceleration, which translates to a 60-0 distance of less than 100 feet;
A range of wheel options, each available in Silver or Dark Gray, complemented by brake calipers in Silver, Red, Yellow, or Black;
Four body colors, including Rosso Alfa (Red), Black, White, Basalt Gray Metallic, Madreperla White Tri-coat, and an all-new Giallo Prototipo (Yellow), seen above;
Three exhaust options, including a standard configuration, a racing configuration, and an all-new titanium system from Akrapovič with twin center-mounted tailpipes;
Tech goodies like an Alpine premium audio system, which incorporates handsfree Bluetooth technology, an iPod interface, and for the old-schoolers, CD capabilities; and,
Many luxurious creature comforts in the cabin, styled by Alfa's sibling, Maserati.